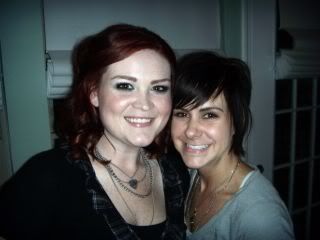 My lack of posting hasn't been intentional, our shotty internet just makes it difficult to use the computer for reasons other than solitaire (I am getting good!) and charging my ipod. I am officially one year older, and I think a little wiser too. It's funny, I've always wanted to be 23. In my mind it has been the no-fail age. If you have a career, cool. If not, no sweat. Married? You're not going to get the "but you're SO young!" And if you aren't, you aren't getting set up with every last single person that all of my friends and family know. It has always seemed like the perfect, no pressure, euphoric age. And here I am..
I feel 22 was a milestone of a year for me. I won't say that it was a great year, but I learned a lot and feel that the not so great things helped me to mature. I was talking to Erica on my birthday and she said that 23 was the year that she felt like she was finally an adult. That is exactly how I've been feeling lately and I am excited that I am feeling a litttle more grown up.
I am really excited for the rest of the year. Megan is getting married next weekend and I am really excited for her wedding, and her bacherlorette party this weekend. My mom, Eric, and Carly and Kelly are (finally) coming to Denver next month. I am excited to show them my apartment, the new salon, and this beautiful city that I live in. I am also trying to plan a trip to New York City. Julianne left this week to go back, and I can't wait to go visit her!! I am also excited for football, halloween, and eventually the holidays. I love this fall weather, and am getting so excited for the leaves to change.