Since I've moved to Colorado, I've been saving up to go to New York. Most of the time when I get cash tips, I put them in a jar in my room for my "fun fund." I had quite a bit of money saved up, and then last year I used all of it for cash down on my car. I've spent the last 8 months building it back up so I could finally go to New York City. One of my best friends from Denver, Julianne, lives in Manhattan and I have been wanting to go out and see her. Because she drops back in to Denver to see her boyfriend a lot, it has been hard to figure out when I could go visit. About a month ago I finally booked a ticket out to see her. I only got to stay Friday til Monday, but we packed in a lot. However, I am sitting on my couch during snow day #2 for the week and am wishing that I had stayed longer.
Friday when I got in, I got on a bus toward her apartment. She was on a bus headed toward me, so we could take the rest of the ride together. Somehow I ended up on the wrong bus and headed toward Queens. I then got off the bus, walked a few blocks back to the airport, and got on the right bus. It wouldn't be an adventure for me if I didn't get lost at least a few times. We finally met up and dropped my stuff off at her place. We then went to the Museum of Metropolitan Art (the MOMA). Each floor had different themes (photography, painting, architecture, etc. We also went to dinner at this little hole in the wall Italian place, and it was delicious.
When I booked my trip, J hadn't realized that she had already committed to photograph a bat mitzvah in New Jersey. Instead of rescheduling my trip, I thought I would just explore the city by myself. J suggested that I take a bus tour through the city. Excellent idea. Unfortunately, it rained ALL day on Saturday. And the bus wasn't covered. I still had an excellent time, and got to see all of the major tourist highlights of the city and learn a lot of cool history. You could choose at each stop if you wanted to stay on the bus, or stop for the site. If you got off, there would be another bus later that you could get on. Because of the rain I wasn't really interested in getting off very often. I also didn't want to deal with getting lost. One stop I did get off at was Ground Zero. I stopped in at Paul's Chapel, which stands right in front of where the two towers once stood. The fact that it wasn't destroyed is a miracle in itself. This is where many of the firefighters, and survivors of the disaster came to sleep and rest. It is now covered in shrines to 9/11.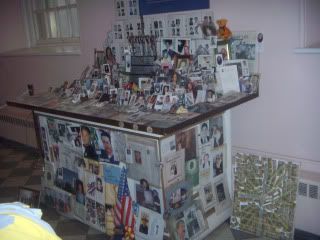 This is one of the ones that was very touching to me. It was a callaboration of flyers people had posted all over the city after that day. If someone was missing, family members would hang up flyers all over the city that had their picture, and a number to call if they had any details. This included people that worked at the World Trade Center, firefighters, police offers...
After I finished the tour, I decided to go shopping at H&M. I have google maps on my phone, so I looked up where the closest one was. Google maps on my phone is a little slow. I got lost, again. It took me about an hour to get there. Right before I got there I got completely splashed by a cab and was dripping wet. Then I arrived at the store to a sign saying that they were closed for a private event. I then spent another half our walking to the one on 5th Avenue, which was packed. I didn't get a whole lot of shopping done that day.
Sunday we got up and went to breakfast at Alice's Tea Cup. It was the cutest little tea shop, with the most incredible scones. We didn't have to wait for a table, so we had a lot of time before church. We stopped at a bakery that I've been eyeing called Levain. They makes breads, cinammon rolls, and the most incredible 1 1/2 inch thick cookies. Not cakey, no doughy, just delicious. Then we headed to Central Park. This was probably my very favorite part of the trip. It was THE most beautiful day outside. Sunny, perfect temperature, gorgeous trees. I love trees.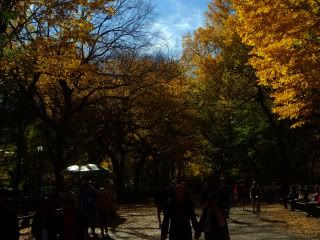 After that we went to church. The story above the church is the temple, so when you look up this is what you see.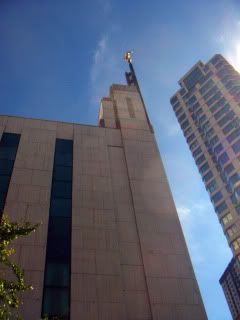 After church we went to Brooklyn for Julianne to look at a few apartments. This might have killed my excitement to want to ever live in NYC just a little bit. Then we took the ferry so we could go past the Statue of Liberty. The night was just as beautiful as the day.
Monday was my last day, and we had a lot to do before going to the airport. We shopped on Canal Street, which is kind of like China Town. I was looking for a wallet, but couldn't find one that I liked. After we went to lunch with my friend Greg who I've known since middle school and now works in the city. We ate at the most delicious sandwich shop called WichCraft. I got to go back to H&M (dry) and got to do some real shopping. When we got back to J's apartment to grab my bags, there was a street vendor selling wallets. I was so excited, it was the one thing left that I wanted to buy and the perfect way to wrap up my trip.
Here are some more pictures from the trip.