Thing have been so hectic that I haven't even had time to write anything for awhile! First and foremost, I have to say Happy Birthday to my Grandma Dianne who is the coolest grandma ever. And not just because her name is my middle name! She is awesome and I don't know what I would do without her! She turned 65 on Wednesday, and spent the whole day at Lagoon with all of her kids and grandkids. And when I say she turned 65 that isn't exactly true, but I will always think she's 65. And I'll always think my mom is 35. I think they're probably okay with that.
My new roommate, Cary moved in last weekend. She is really cool, but she's crashing on the couch for a little bit until Peri gets her stuff moved to Jacobs. Things are going well, she is a really cool girl! She is actually married, but her husband is in the military so she is out here doing Teach For America. It's been fun having her around, I think we're going to have fun together!!
Last weekend was full of birthday celebrations. Friday night was Karen's brother Tommy's 30th birthday. Tommy is special needs, and so so so so fun to be around. He is always asking for girls numbers, and always asking for a pen to write down their number. As a gift some guys from his ward bought him a package of pens, and a little black book they called the "chick-tionary." Here's a picture of Karen and Tommy with the cake, and a picture of me and my friend Stephen who is home from BYU-Idaho right now.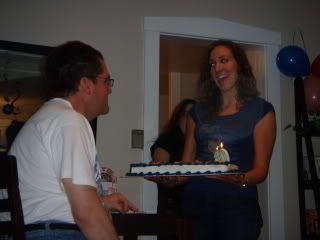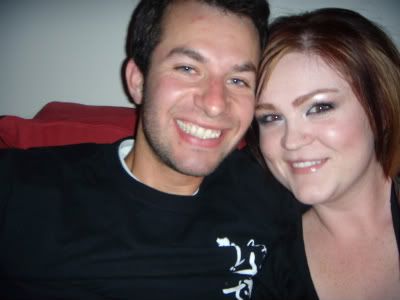 Saturday night the salon girls went out to celebrate Peri and Kym's birthdays. We went to my favorite bar called Rock Bar. I love it because it's never been remodeled from the 70's. Also, they play lots of "old school" music. The dance floor is small so everyone packs on and has a good time. The night "Midnight Madness" was going on, which is a moonlight bike ride. People in Denver are really into fitness, including bike riding. I obviously didn't participate, but there were a million people downtown on bikes! It was so crazy, I've never seen anything like it!!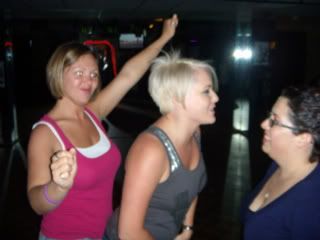 Other than that, I've just been keeping busy. Work has been jam packed, which is so nice. I love being busy, the days fly by.. and the paychecks are nice! I've been working out a ton still, and I'm really starting to enjoy running. I am so lucky to have such strong legs! I am sure I will feel the same way about my arms.. once they are actually strong! I am about to head out to a wedding reception which will be the first of MANY for the summer. I am so excited for my friends to be moving on and getting married, but it seems so crazy to me! I'll be back in Salt Lake for Peri's wedding so soon, it almost seems surreal.