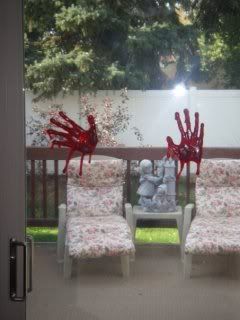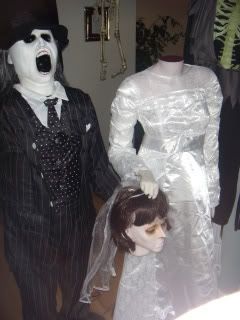 Those pictures weren't taken from a haunted house, they were taken at my parents house. Eric LOVES, LOVES, LOVES Halloween. It is fun to see him get really into it, and everyone else really appreciates all of the hard work he does putting up decorations. Those are just a sample of what I saw when I was home, and they were just getting started. On top of the killer decorations, my parents always have a little production in their driveway. Hot chocolate, hot dogs, candy, lawn chairs, etc... It's the place to be on the 31st. Many of my friends still stop by to check out the party, and the passersby appreciate the unique decorations and fun treats.
I didn't think I could justify going home for Halloween over Christmas, so I stayed here in Denver. Friday night Natalie and I went to a YSA dance. It was... interesting. People got really into costumes which was really cool. My favorite was my friend Stephen who went as a nerd. He was unrecognizable. He spent the night flirting with friends from across the dance floor, making them very uncomfortable. Here's a picture of his costume.
Saturday I went to a costume party at Kim and Seths. It was mostly girls from the salon, and then some of their friends too. It was a lot of fun, i loved Kim's figure skater costume, and her chihuahua, Chip, was Bob Marley. I was a Devil both nights, but we all know that I'm an angel at all other times.