I have been caught on various occasions telling my little sisters that I am "freezing like a freezer" (and also that I am smoothe like a smoothie...), but this time I could actually be right. It is definitely colder outside than it is in my freezer. Denver set a new record today at -18, and going outside is insta brain freeze. There were some 300 school busses in the Denver area today that wouldn't start, leaving those poor little kids waiting for a bus that would never come.
Friday night we had our ward Christmas party, dubbed an "Ugly Sweater Party." The turnout wasn't all that great, but there was definitely no competition to Jonathan's 4th grade teacher-esque sparkling sweater.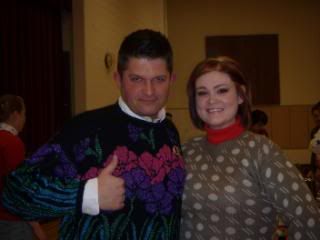 Saturday was the Salon's Christmas party. When the SF girls get together, there is never a dull moment. We went out to a club last weekend called 24karat. It is above the ever trendy Monark which was the bar featured on Real World Denver (p.s., I am SO excited for Real World Brooklyn!). I love getting dressed up for any occasion so it was fun to get dressed up two weekends in a row. Here is Peri and I excitedly taking our "shots" or Martinellis.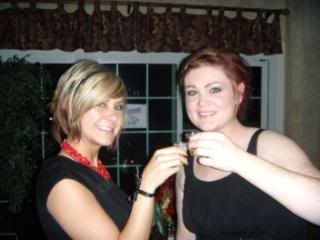 In other news.. I am so prooud of my little brother Chase, who will be serving his mission in San Antonio. I know that he will be a great missionary, and the people of San Antonio are lucky to have him for the next 2 years. I'm also excited to talk to Ty on Christmas, it's been over a year since I've heard his voice. Tomorrow we are having an Enrichment activity at my house wrapping Christmas gifts. I always procrastinate wrapping my gifts, so that will take care of that problem. Yesterday while I was trying to get ahold of someone in my family I thought I noticed the smell of something burning.. I asked Victoria if she smelled it, but she reassured me my nose was confused. Just to make sure I headed to the kitchen and discovered that thick dark grey steam was emerging from our dishwasher. I opened the door and after the thick cloud dispersed, I discovered that a plastic lid was resting on the heating element. Thankfully we caught it before full ignition!! At least it would have kept us warm through this crazy cold weather..