Valentine's Day came early for me when I got this little treat at work on Wednesday. I was oh so excited to see my client, Maria, and update her on my paleo success. She's a 10 weeker, so I hadn't seen here since I read The Paleo Solution, and she didn't know that I had committed to the lifestyle. Nonetheless, she showed up with this bag of goodies for me, and I couldn't have been more giddy. Inside was a batch of a home baked nut mix and sugar free "dessert" gum. I am so lucky to have such great clients! Especially ones that care about my health.
There is nothing I love more than finishing a workout and having my shirt look like this"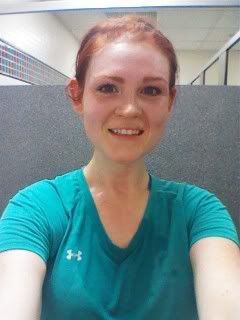 There's something about dripping in sweat that makes me feel accomplished. I don't end up sweaty like this from the elliptical, that's for sure. Here was my schedule for the week:
4.5 miles ran, abs
6 miles ran, 15 minutes on the stair climber, 30 minutes on the elliptical, upper body strength training (this was workout night with Ashley)
elliptical for 45, legs, lots of extra stretching
4.5 miles ran, upper body, abs
60 minutes on elliptical (2 different ones)
6 miles ran, 15 minutes on elliptical, upper body, abs
Monday I was feeling really discouraged. Last Friday was an 8 and I was still feeling it after my rest day. When I got to the gym Monday night I was achy and tired. 20 minutes into my run Ashley showed up and changed my whole attitude. She and I chatted while I finished up my last 3 1/2 miles and it was a breeze. We finished catching up while we did the stair climber (brutal!), and some strength training. It was the exact pick me up I needed. I realized by Wednesday afternoon that I had been sick since the weekend. I wasn't necessarily achy from the gym, just from being sick. I am feeling much better now and today's run was a piece of cake. I also got a new pair of my favorite shoes (Brooks Adrenaline) and found out they come in wide! I am going to start rotating them in and hopefully will end up with a few less blisters. Excited that week 4 is out of the way!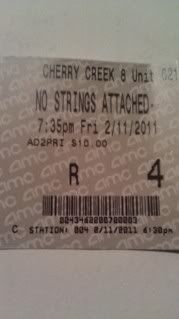 As a side note, I saw No Strings Attached tonight. A few weeks ago a guy friend recommended I see it and he said, "it has a really great message." I kind of laughed and asked him what the message was. He responded with, "that love isn't convenient." He was right. The movie was good, and the message was loud and clear. Although I definitely don't practice in "no strings attached" sex, I felt very connected to the main character. I'm not going to go into the details of the movie, or the details of my dating life.. but I think it was a good reminder that sometimes you have to take a risk, even if that risk involves getting hurt.
Has anyone else seen any good movies lately? Anything exciting planned for Valentine's day?