This morning I woke up excited that it was the Boston Marathon. For the first time I understood what it meant to qualify for Boston, knew the names of people expected to win, and had friends who had been working their tails off in preparation for the race. I read about a bazillion running blogs and loved the buzz about the girls that were running today. It's amazing how the running culture is shared through blogging, and I was super excited for these girls that I've never even met. Personally, I had 3 friends running today. My friend Peter who lives in DC not only ran the race, but raised $2,342 for the Boston Living Center. Brady, a friend from Colorado who lives in Utah now. And Ashley. I know I have mentioned her before, so let's introduce you a little more.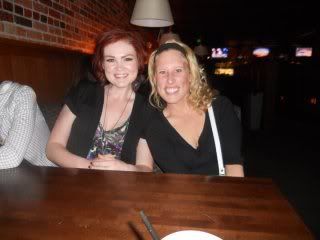 This picture is the one and only time Ashley and I have ever been together in normal clothes.
This is how I normally see her: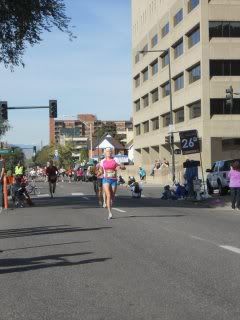 I met Ashley at the gym in September. She was chatting with my trainer, Joe, and somehow we got introduced. I quickly learned that she was training for the Rock N Roll marathon, I was training for the half. I had absolutely no idea what I was doing, and had absolutely no idea that she knew EXACTLY what she was doing. She started running next to me and we started chatting, getting to know each other, and becoming friends. She rocked the Rock N Roll in 3:27 and qualified for Boston.
Monday runs have always been pretty miserable for me, but having Ashley there has made it fun. She might run a heck of a lot faster than me, but she is always incredibly encouraging. It's because of her inspiration/encouragement that I decided to sign up for the Colfax Marathon. She has been there to calm my nerves, pump me up, keep me going, and to tell me "get it girl!" I jokingly call her my "Running Coach," but I don't think she realizes that her coaching has been the one thing to keep my from backing out from this race.
The girl never gives up, never compares herself to her crazy amazing running friends (her boyfriend ran the Platte Half in 1:13:05), and always gives it all she's got. She completed the Boston today in 3:22:18 and I couldn't be more proud of her. Next month she will be running miles 13 to 23 with me and the thought of it brings tears to my eyes. Her incredible determination is exactly what I am going to need that day!