Everyone's been blogging about tapering, with less than 2 weeks til Boston. I figured I should taper too: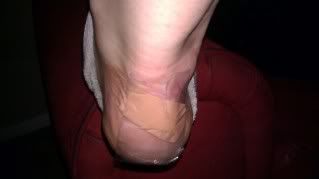 Oh wait, tapering doesn't include actual tape? Oops. My bad. I earned myself a mighty big blister last weekend from my street shoes, and a bandaid plus packing tape were the closest thing I had to moleskin or blisterguard. Luckily since I'm a mid striker, it doesn't really affect my running but my work shoe choices have been limited. It is *kind of* a taper week for me with the half on Sunday but really I'm just having a taper day on Friday. Since my marathon is more important to me than this half, I'm trying not to compromise my training too much.
Today was my last real run for the week and I loved every minute of it. I am actually getting really excited for Sunday! Maria was in today so we had nerdy Paleo carb loading talk and I am feeling really prepared. She also gave me permission to eat frozen yogurt after the race. Yogurtland, here I come!