I guess I am a little late on the birthday update, I've just been so busy celebrating!! My birthday fun started with a pre labor day dinner at the Moore's.
(For those of you who don't know who the Moore's are.. Kathy Moore and my mom are cousins. When I first moved to Denver I lived in their basement while I found an apartment and waited for Peri to move here. They have taken me in as one of their own, and I love spending time with their family!)
Kathy's son Tommy was turning 32 on the 3rd, so we had dinner at his house to celebrate our birthdays plus labor day. It was fun playing in their brand new backyard, and catching up with everyone. I ended up spending the night at Kathy's because it got so late, and got up the next morning and bought a new DVD player for my room. I'm excited to be able to watch movies in bed now!!
I didn't really have any plans made for my birthday. I don't work Friday's, and I didn't want to plan anything too exciting because I work early on Saturdays. My new and wonderful friend Adam drove down from Arvada, so we ate pizza and watched season 4 of The Office which is one of my favorite shows! For my birthday Adam bought me 3 lotto tickets, and I won $5!! Later that night, my friends Stefen, Karen, and Dave joined us. We had some cake and watched some more of The Office. Then we decided to go see Hancock at the $1 theater. I had heard bad things about it, but I actually really enjoyed it!!
Unfortunately, I didn't return home from the movie with my phone.. I know it was in my pocket during the movie, but it never made it home. We searched the car, I tore apart my apartment, and called the theater several times to see if it had been turned in. Unfortunately, I don't think I'll ever see that phone again. I bought a new one yesterday, so I am still needing peoples phone numbers.
Saturday we celebrated my birthday for real. A bunch of us went to dinner at Hacienda Colorado. It was soooo much fun! Nearly 20 people showed up and we had a blast. The restaurant is one of many, but that particular location is only a few months old. The food was great, and I loved having a lot of my friends there with me! After dinner Natalie and I went dancing downtown, and had a lot of fun shaking our money makers.
The weekend was awesome, I am lucky to have such great friends and family! Thanks to everyone who celebrated it with me, and mostly thanks to my mom for having me! I love you all!!
here's a picture of me blowing out the candles on the cake Kathy made me. It was brownies frosted with Andes Mints. Delicious!!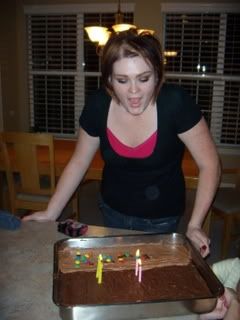 Peri, me, Karen, and Natalie. My three best girlfriends in Denver.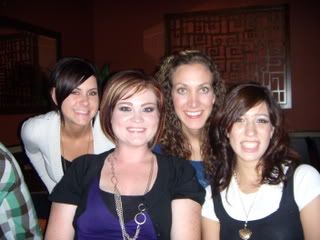 Peri with my cake at work. It was from Coldstone. 2 layers of choclate cake, one layer of sweet cream ice cream with cookie dough, and one layer of chocoloate ice cream with peanut butter cups.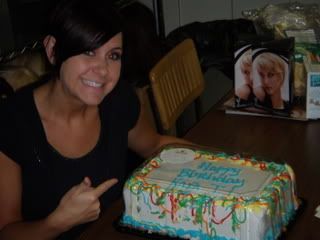 Cary (my new roommate), Kenny, and Kyra at Hacienda.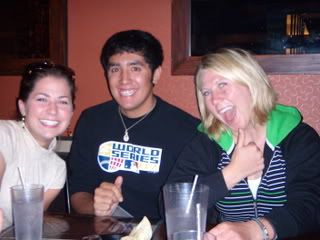 <