Fortunately while I was in Utah, Erica and her kids were there too. Since Erica is a stay at home mom she has a little more flexibility and was able make it out there a whole week before me and stay a day later. Harper (who I like to call Scout) asked several times a day "want to play? go play?" She takes turns asking every member of the family and does not discriminate towards anyone. One of her favorite playmates is my parents dog, Rocko. He generally tolerates with her hugging on him, pulling at him, and sneaking in his room to play with him. Unfortunately it was too much to handle last Tuesday and he bit the poor thing in the face. She had to have stitches in her nose and her lip and spent 5 hours at Primary Childrens before heading back to LA. Erica said she was super brave at the hospital. Please remember the cute little munchkin in your prayers as she heals.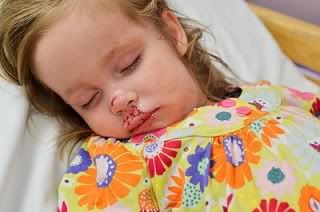 I was thinking about it today, and I AM a hair and make-up artist, so maybe I should blog a little more about that? My clients come to me for beauty advice so I must be doing something right some of the time. You can also check out the salons website (salonfoushee.com) for the beauty tips section from all of the lovely SF ladies.
Here are some trends I am loving right now:
Feather Extensions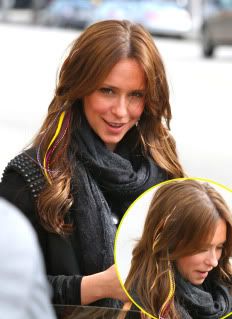 These started as kind of Boulder/hippie trend but have been spreading like wildfire. I spied a few people in Utah with them, but I do believe that Colorado is doing them better. A single bundle of multiple feathers like JLH has is what's hot. Not big clumpy ones, or 6 different single strands throughout the hair. The bundle I have in my bright red hair has a couple of striped ones, but several solid bright colors as well. It's a fun way to temporarily spice up your look without color commitment. What's also great about them is that they can be washed, blowdryed, smoothed, curled, etc. I even did a Brazilian Blowout with mine in.
Nail Polish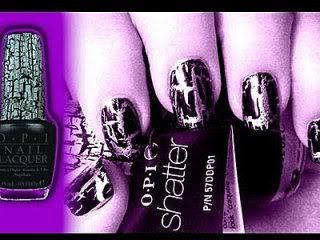 This particular look is on the darker side, but it's so popular that it's nearly impossible to find. It's part of the Katy Parry collection and it's so fun. You paint the Black Shatter over whichever color of nail polish you want and it crackles. Very unique and fun. Also for spring and summer we're seeing lots of BRIGHT colors.
Make-Up
If you had asked me any time in the last 6 months what's in trend of make-up, I would say "a flawless face." It's true, and it's still true. However, we're also seeing some super bright colors. To sum it up for spring I would say metallic eyes, bold bright liner, and thick brows. A lot of people overlook their eyebrows but they frame the face, accentuate the eye, and should not be forgotten. I personally use a soft shadow (MAC Texture on myself) with a thicker angled brush. It can be done more dramatic when my make-up is darker, or lightly for days that I'm not wearing much. They also make brow gels, pencils, waxes, or Benefit makes a wax/powder combo that is incredible. For blondes and lighter brunettes I love Omega from MAC.
Clothes
This is not my expertise. When I do laundry everything is gym clothes, socks/underwear/, or black. Today I had 1 colored shirt in my laundry. I apparently need to go shopping because guess what's in style for spring for clothes? Color. Of course. It's popping up everywhere. Citrus hues are big again this year. But really, big chunky bright bangles, bright mismatched patterns, bright this, bright that, I guess it's time for me to branch out. We're also seeing one piece swimsuits, scarves, stripes, long skirts, tassles, bell bottoms (retro everything), biker gear, crocheted clothing, and sheer fabrics. I might redirect you to lookbook.nu or tandsdaybook.blogspot.com for more some people with a little more fashion sense than me.
After a week of working out with crappy headphones and an old ipod shuffle, I broke down and rebought what I had before. What can I say, I am a creature of habit. I love my Nike Vapor headphones because the sound is clear, they're extremely comfortable, and they stay in my ears. Some models have a cord that splits in the middle in case you're working out with an arm band. Brilliant. The ones I love are a little sturdier and can handle all of my sweat, so they are worth the extra money. I also decided to stick to the 5th generation nano because I like the click wheel and the video. I can't use my sweaty finger on a touch screen! I don't know what they were thinking. Lucky for me, the Apple refurbished site had an 8gb for $99. Now I am back to square one on my playlist. I like to keep one long running "running" playlist that I can put on shuffle. Does anyone have any suggestions of some great tunes? Great music is imperative for a good run.
this week:
walked 3ish miles with Kelly
ran 3.5
ran 5
ran 6
elliptical for 30 minutes/1 hour Zen Strength
ran 8 miles/abs
rest
Today's 8 seemed pretty easy after last weeks 14. My original plan today was wake up, get my emissions done, run 8 miles, home and shower and be ready by 11:30 to meet Reece for the Zoo or a movie to celebrate his birthday. I got to the emissions place a little late, waiting for 45 minutes, and then they informed me that there was some piece of paper that was covering my VIN number and that I had to leave. Ugh. I spent 10 minutes in my car trying to shove papers/cd jackets/anything to move it out of the way. And then, I discovered a fork. Fantastic. I got it moved, then rewaited in line and got it taken care of. I didn't even finish my run until after noon and he had to work at 4:00 so the zoo/movie plan didn't happen. Instead we walked over to City Park (my favorite!!) and enjoyed the beautiful sunshine and Colorado 65 degree weather. After he left I still had to go to the DMV but it was less painful and my registration is taken care of until next March. Phew.