This last weekend I headed to Salt Lake to see Chase along with the rest of the fam. The best thing about the flight to SLC is that it's usually only about 45 minutes. If you're smart like I am, you'll book a flight at the crack of dawn and sleep through the entire time. I was excited that Chase volunteered to pick me up from the airport. After I got in I headed to the eye doc for a new pack of contacts and new pair of glasses. I got the privilege of having my eyes dilated which led to some confusing text messages and a super fun drive in paper sunglasses. Friday night we all went out to The Pizza Factory for some grub and I enjoyed a delicious salad bar. I should have just had pizza and breadsticks because my eating was shortly derailed completely leading to ridiculous amounts of cookie and brownie consumption instead of the asparagus and broccoli my mom bought for me. Oops. Moving forward.
Hailey and I at dinner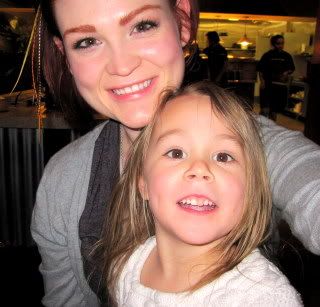 Greg and Gavin: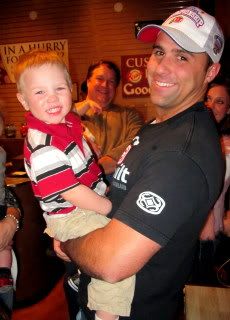 Saturday I decided to pay the $10 fee to work out at Gold's Gym for my long run. I wasn't familiar enough with the area to map out my own. More than anything I was nervous about running this far of a distance in such a hilly area. So I hit the treadmill and busted out 14 miles. I'm pretty sure the guy next to me during the second half of it (machines shut off at 60 minutes) thought I was a little off, seeing as at mile 2 (which was really mile 9) I was dripping in sweat and downing a packet of Gu. My final time was 2:06, which is good enough for me. I'm hoping to shave off a little bit more per mile before my half, but I'm not too concerned. I must have been a little disoriented afterward because I left my ipod and favorite headphones on the treadmill and didn't realize it until Monday morning. When I called they didn't have it. Darn. I also got to have lunch with my bff Dave, trial run Sam's hair and make-up for her June wedding, and attend an engagement party for my cousin Allia. She is a traditional Muslim (my family is so diverse), and is following the customs for her engagement. It was fun to spend time with her and her sisters, I am really excited for her.